NCU's 60th Anniversary of Re-establishment in Taiwan, Anticipating the Reaching of a New Height
Posted on: 2022-05-23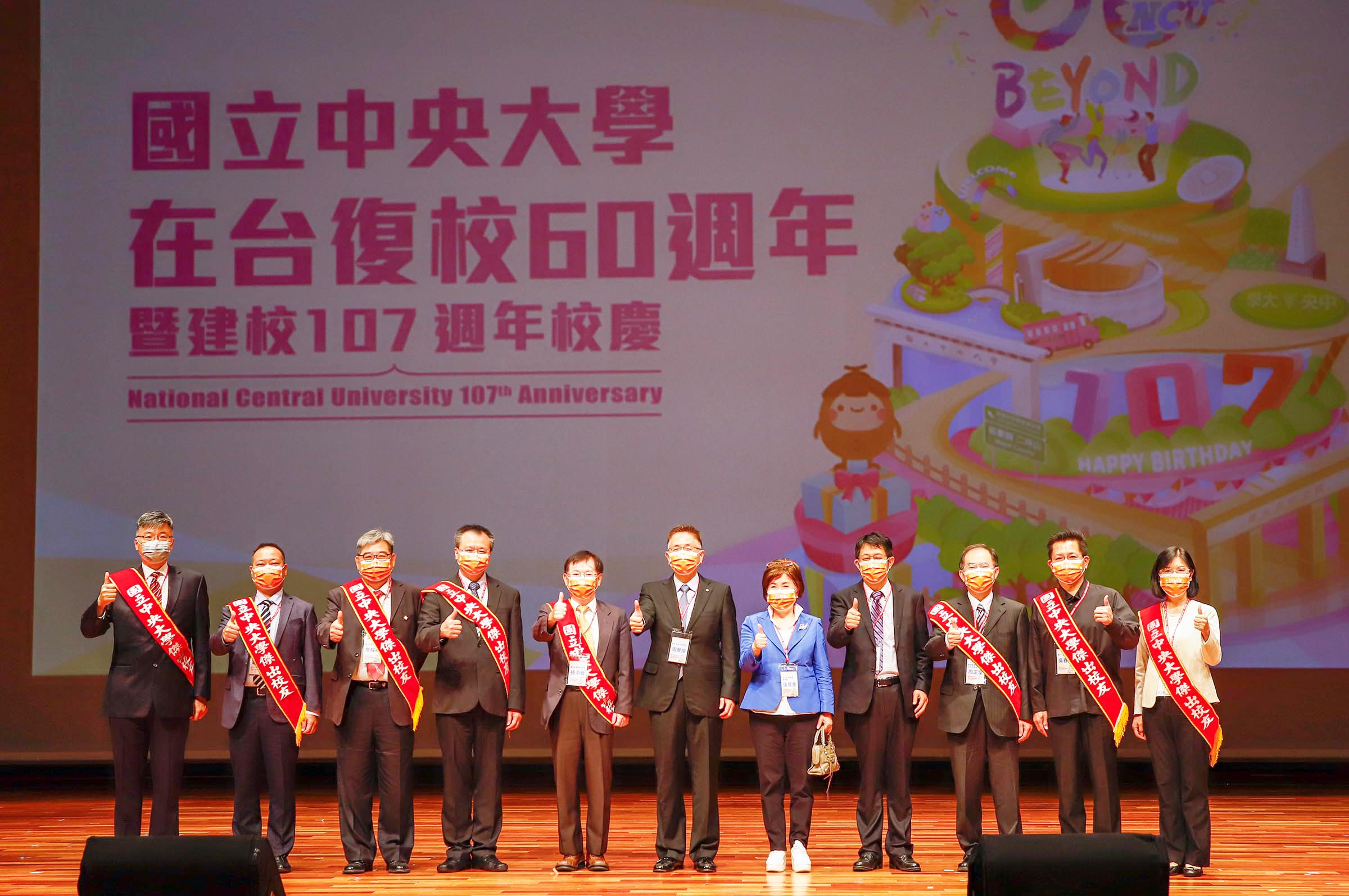 NCU celebrates her 60th anniversary of re-establishment in Taiwan. In the ceremony NCU commends distinguished alumni-elected of the 18th and 19th Distinguished Alumni Nominations. Photo: Lai Lu-Yun
On May 20, National Central University (NCU) celebrated her 60th anniversary of re-establishment in Taiwan and her 107th anniversary. Initially located in Miaoli and relocated in Zhongli, Taoyuan, NCU has been re-established for six decades, cultivated almost 80,000 NCU alumni, and become one of the top universities of excellent research and teaching in Taiwan. In the celebration ceremony, NCU commended distinguished alumni-elected of the 18th and 19th Distinguished Alumni Nominations and many other outstanding NCU members for their performance and contributions. In the meantime, with the celebration, we expected that all NCU members will keep making breakthroughs and reach a new height.
The ceremony was unveiled with the student club NCU Peking Opera Society's performance "A Great Blessing" to celebrate NCU's 60th anniversary of re-establishment in Taiwan. Accompanied by the sonorous traditional Chinese music, the amazing opera performers brought full blessings to NCU and wished the university to keep cultivating more NCU people. In addition to the Peking opera, the String Club also brought their performance. The flow of beautiful and touching melodies seemed to wish all NCU members promising futures.
"In recent years, NCU has ranked top among other universities regarding several indicators. In the 2022 University Social Responsibility (USR) survey conducted by
CommonWealth
Magazine, NCU won third place; it was a stellar outcome. In addition, in the survey of 'the amazing new graduates beyond your expectation' among the enterprises conducted by
Cheers
Magazine, NCU ranked top two among the universities in Taiwan," said NCU President Dr. Jou Jing-Yang. In addition, Dr. Chiang Wei-Ling, chairman of NCU Academic Foundation, also expressed his expectation that NCU becomes a university that the society values and admires: "we should not only pursue success but should further make the society accomplished." Ms. Chang Yu-Mei, president of NCU Alumni Association, congratulated on NCU's anniversary, wished NCU future prosperity, and prayed for the health and safety of every NCU member faced with the COVID-19 pandemic.
In the ceremony, NCU commended many chair professors, distinguished professors, and faculty members who won prizes from the Ministry of Science and Technology (MOST) for their academic achievements. The ceremony also praised outstanding staff members and technical specialists elected by their units and praised senior staff members who have been working at NCU for ten years, two decades, and three decades for their dedication to university affairs. The award-winning students either are academically excellent or are great leaders in student associations and clubs or various student affairs. They are the people who make the whole campus full of youthful vigor and best illustrate NCU people's spirit of perseverance.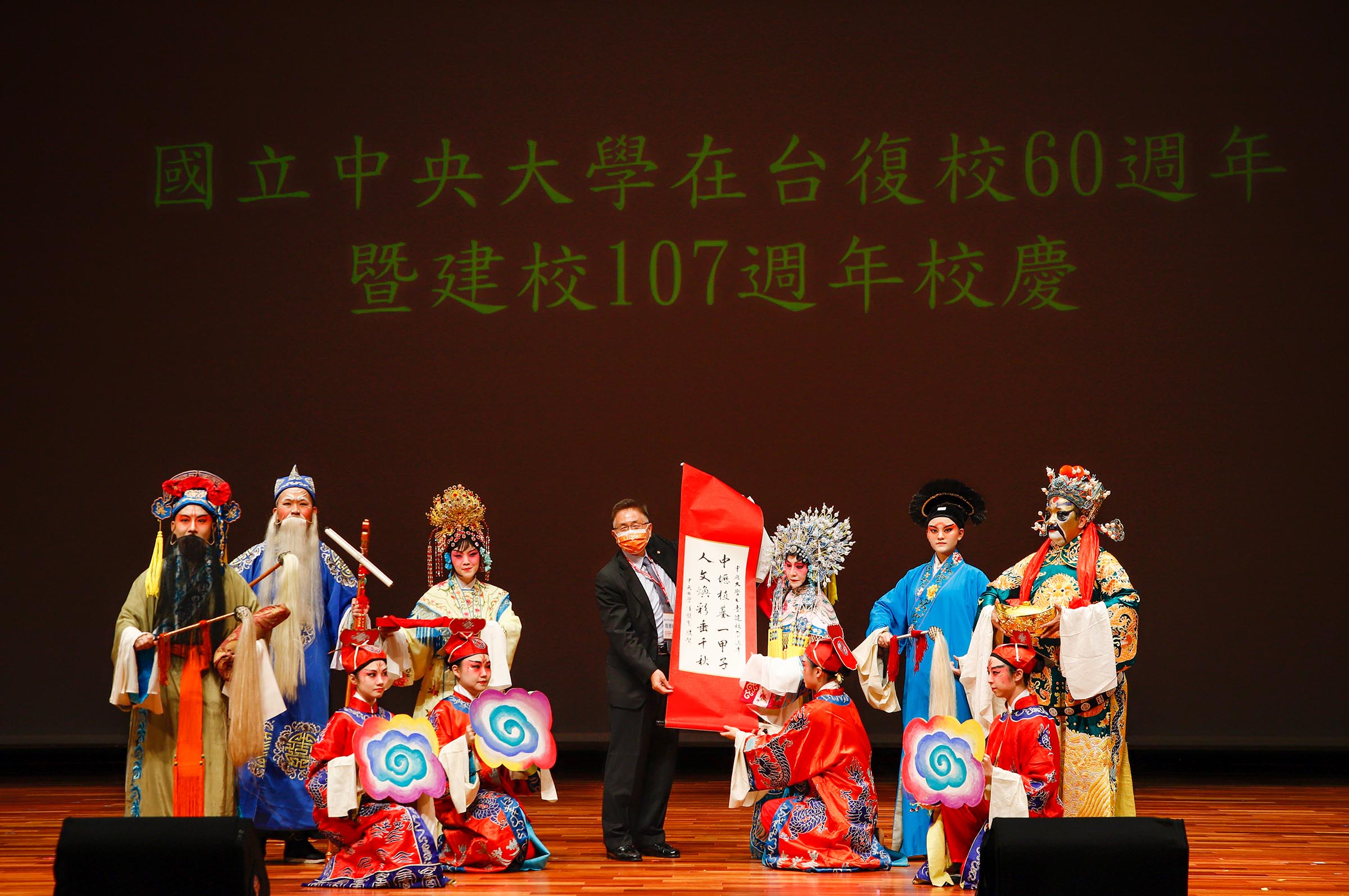 NCU Peking Opera Society unveiled the ceremony with opera performance "A Great Blessing," celebrating NCU's 60th anniversary of re-establishment in Taiwan and wishing NCU future prosperity. Photo: Lai Lu-Yun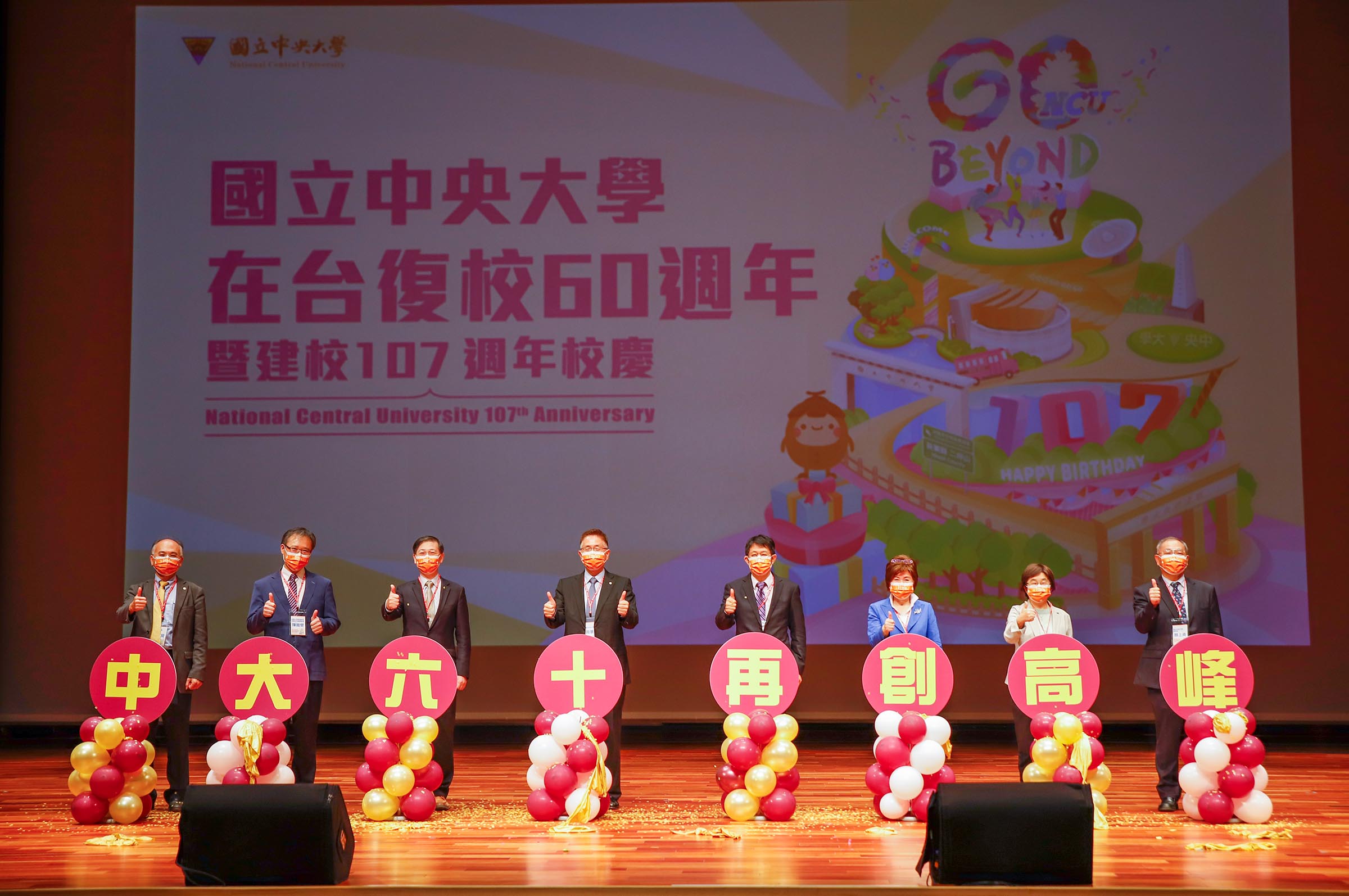 Last updated: 2022-10-31 Posted by: Headlines Visit counts: 952