NCU International Students-Cultural Immersion-One Day Tour in Jiufen
Posted on: 2020-11-10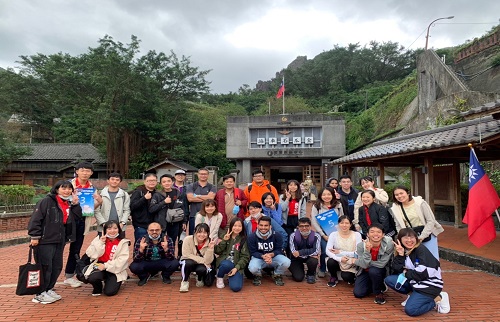 The Gold Museum represents Jinguashi's culture and the history of gold-mining.
It was a bright and cheery morning, the student ambassadors couldn't wait to share the breathtaking view of northern Taiwan with international students from different countries. With excitement, we first headed for Shifen Waterfall, which has been known as Taiwan's "Niagra Falls." Everyone was amazed by its spectacular, even the wind was so strong that it felt like raining while approaching the fall. Then we had a nice lunch at Shifen Old Street. Walking along the local buildings, a sense of antique came to our mind. The railroad is the best spot to take a memorable picture even we don't have time for flying lantern. Next time we must launch a lantern together!
After having a pleasant time at Shifen, we visited the Gold Museum in Juifen. The museum represents Jinguashi's culture and the history of gold-mining. We had a chance to touch a multi-million dollar gold ingot, and explore abandoned mining sites. Then, the famous Juifen Old Street is our last destination. The entire village is built on a mountain slope, so that we can enjoy views of the mountain and sea natural barrier, along with scenic beauty of lofty mist. Besides, its cultural atmosphere attracts us to explore every narrow alley. It was definitely a tired but fulfilled day! Thanks for those who joined One Day Tour with the student ambassadors! Hope this trip leaves us a good memory!
NCU student ambassadors are the liaisons between local Taiwanese students and international students. They organize different activities to bring them together to share each other's backgrounds and cultures and to accept each other for who they are and where they are from. Moreover, they represent the best part of NCU to the visitors by giving a campus tour.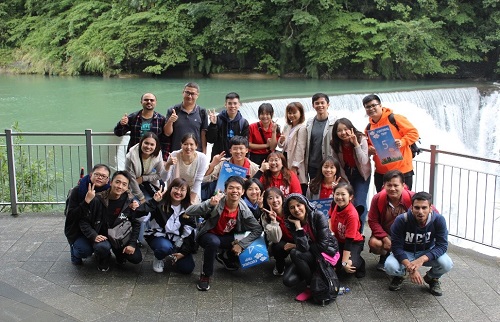 Everyone was amazed by Shifen Waterfall's spectacular.
Last updated: 2021-07-08 Posted by: Headlines Visit counts: 1615