Cultural Workshop—calligraphy and seal carving
Posted on: 2021-03-26 Author: Office of International Affairs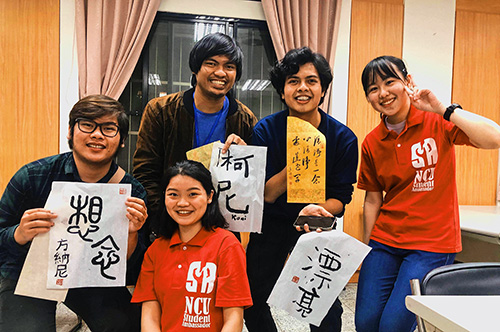 On the evening of March 17, a Cultural Workshop organized by Student Ambassador of National Central University —calligraphy and seal carving session was held in the calligraphy classroom of the building of Liberal Art and Literature. Mr. Lu Guo-Qi, a well-known local artist who has devoted himself to calligraphy and seal carving for more than 30 years, was invited to give students instructions and teach them skills. What is unique is that the participants sitting under the stage are not Taiwanese. They are all students from different countries coming to NCU for learning Chinese or for higher education.
In only two and a half hours, they have been guided step by step by Mr. Lu and the enthusiastic Student Ambassadors. In the workshop, all students not only experienced the beauty of Chinese calligraphy but also further applied the skills of calligraphy to their seal carving works. Everyone was excited when they saw their final masterpiece. Memories were made on such a warm and lovely night.
To improve the Chinese of international students in NCU, the Office of International Affairs of NCU commissioned Student Ambassador to think about how to motivate international students to learn Chinese with the culture in it. According to the survey result, international students prefer practical courses and that is the reason why we presented this cultural workshop today.
Mr. Ku, who comes from France and have been learning Chinese in NCU said that this calligraphy course impressed him deeply. Also, this course gives him a perfect ending to his study in Taiwan since he will leave Taiwan at the end of March. He hopes that he will come to Taiwan and study on our campus again. Another Indonesian student, Mr. Riza wrote "Miss" in ancient mandarin, hoping that the pandemic will ease soon so he can go back and forth between Taiwan and Indonesia without any constraint.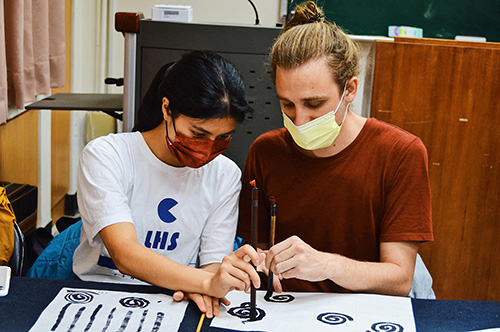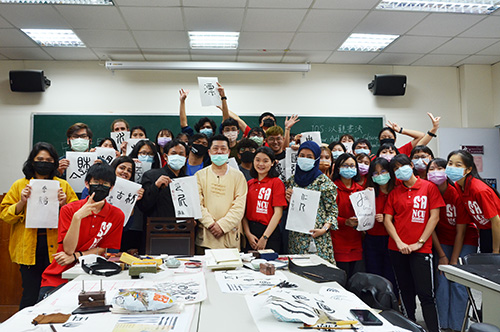 Last updated: 2022-11-03 Posted by: Headlines Visit counts: 3291