Boldly Exploring the Edge of the World: NCU Scientists Sailed Deep into the Polar Circles
Posted on: 2021-11-03 Author: Office of Secretariat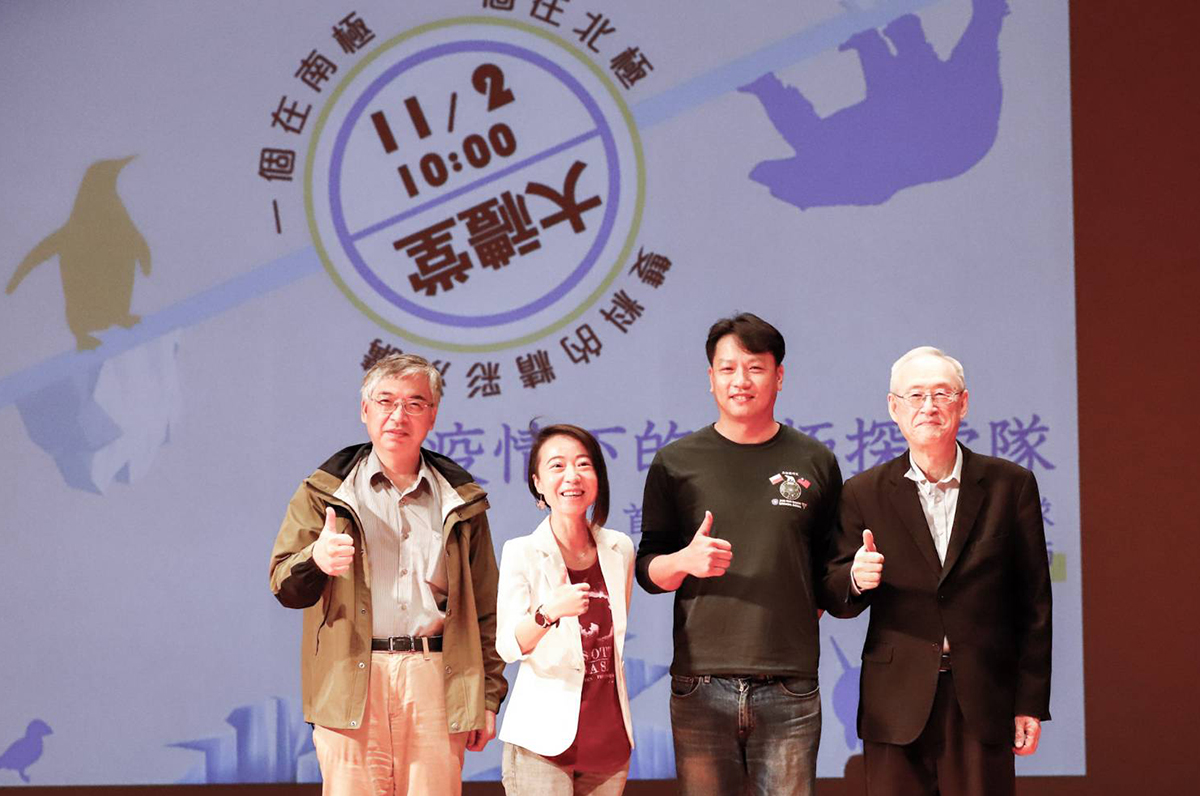 For the first time, the College of Earth Sciences at NCU invited two scientists, who respectively went to a polar circle to conduct research, to give a speech at the weekly meeting of the College. Photo by Lai Lu-Yun

How would penguins in the Antarctic meet polar bears in the Arctic? The College of Earth Sciences at NCU gathered two speakers to give speeches at the college's weekly meeting. The speakers were Assistant Professor Cissi Ying-tsen Lin at the Department of Space Science and Engineering, the first Taiwanese female scientist that conducted research, winter-overed, and stayed consecutive 54 weeks in the Antarctic, and Professor Hao Kuo-Chen at the Department of Earth Sciences, who led the first Taiwanese expedition team of earth sciences that set up our national flag in the Arctic. Through their splendid and immersive sharing of experiences, the two speakers led the audience to the adventures of Taiwanese earth sciences teams into the polar circles.
The topic of Professor Lin's speech was "To the Bottom of the World." She shared with the audience how she had stayed in the harsh environment of the Antarctic for 54 weeks. The journey to and the life in the Antarctic as well as the trip coming back to Taiwan were unpredictable. Even though the Antarctic is called "the last virus-free continent," life at the Antarctic research station was full of uncertainties while the pandemic of COVID-19 was wreaking havoc around the world.
Professor Lin said that material supplies are lacking and the convenience of modern life is absent in the Antarctic; living there is like living in outer space. Furthermore, there are also polar days and polar nights, which are an ordeal to one's spirit. However, recalling the days at the Antarctic research station, Professor Lin had also recorded 1,600 hours of firsthand data collected by three sets of lidar after having had endured epic blizzards. Having brought the valuable experiences back to Taiwan is Professor Lin's greatest comfort.
Professor Kuo-Chen told the audience that it was not difficult to travel to the Arctic Circle before the pandemic; however, making decisions in an unpredictable environment when faced with the uncertainties during the ravaging pandemic was the most difficult. With the topic of "Accepting Challenges," Professor Kuo-Chen depicted why and how the Arctic expedition team was established, the experiences of the team members, their mental preparation and short stories before and after the journey to the Arctic Circle, and the change in their lives after the journey.
Svalbard, an archipelago in the Arctic Circle, is unknown to most people. However, it is a very important place of exploration for scientists. In this journey, the three members of Professor Kuo-Chen's team applied the methods of geological survey, landform survey, and geophysical survey and brought first-hand observation data back to Taiwan. The team has paved the way for the further development of Taiwan's research on the Arctic Circle. Professor Kuo-Chen wishes that more partners could join them in the future. Moreover, he also expects to advance interdisciplinary research and expand international collaboration.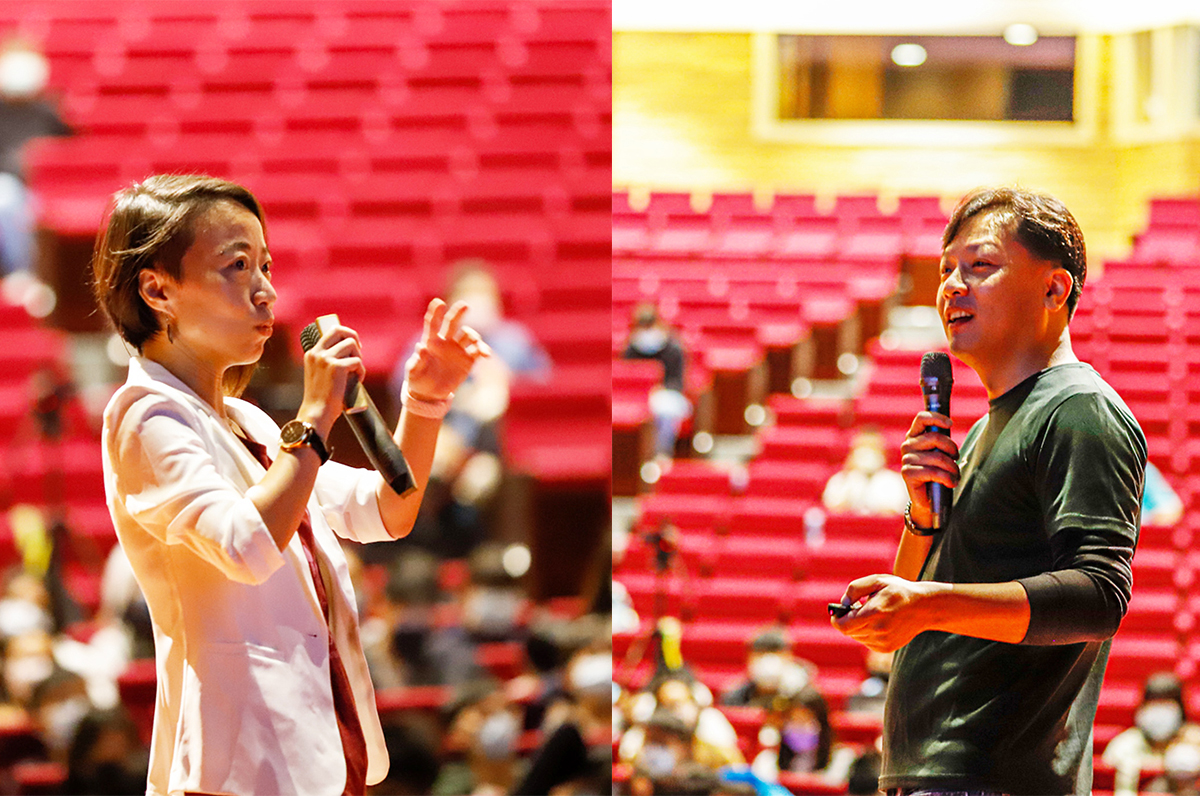 Professor Cissi Ying-tsen Lin at the Dept. of Space Science and Engineering (left) and Professor Hao Kuo-Chen at the Department of Earth Sciences (right) shared their scientific research and lives in one of the polar circles, respectively. Photo by Lai Lu-Yun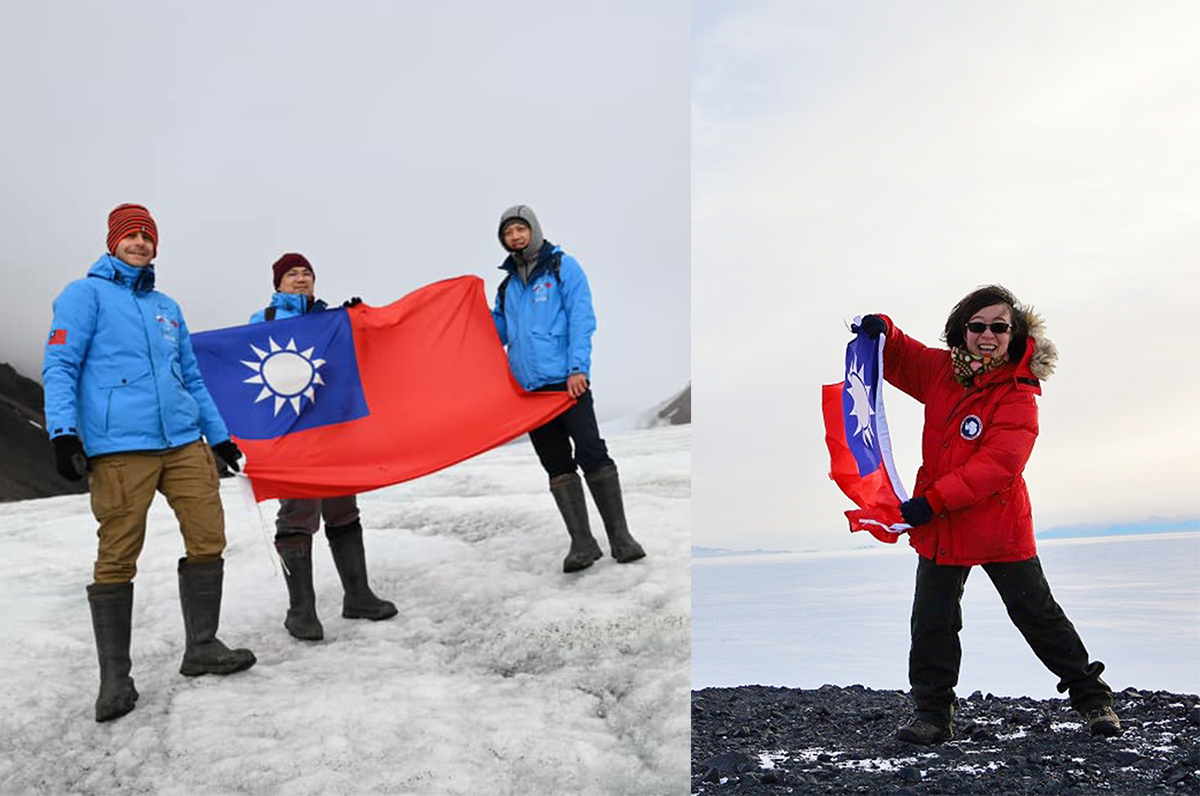 Two groups of scientists respectively went deep into one of the two polar circles to conduct research. Both groups coincidentally set up the national flag of the Republic of China (Taiwan) on the lands of the Arctic and the Antarctic, respectively. Photo courtesy: Prof. Hao Kuo-Chen and Prof. Cissi Ying-tsen Lin
Last updated: 2022-10-31 Posted by: Headlines Visit counts: 1216