International Cultural Day and Study-Abroad Fair Brings You 8 Countries at A Glance
Posted on: 2021-12-02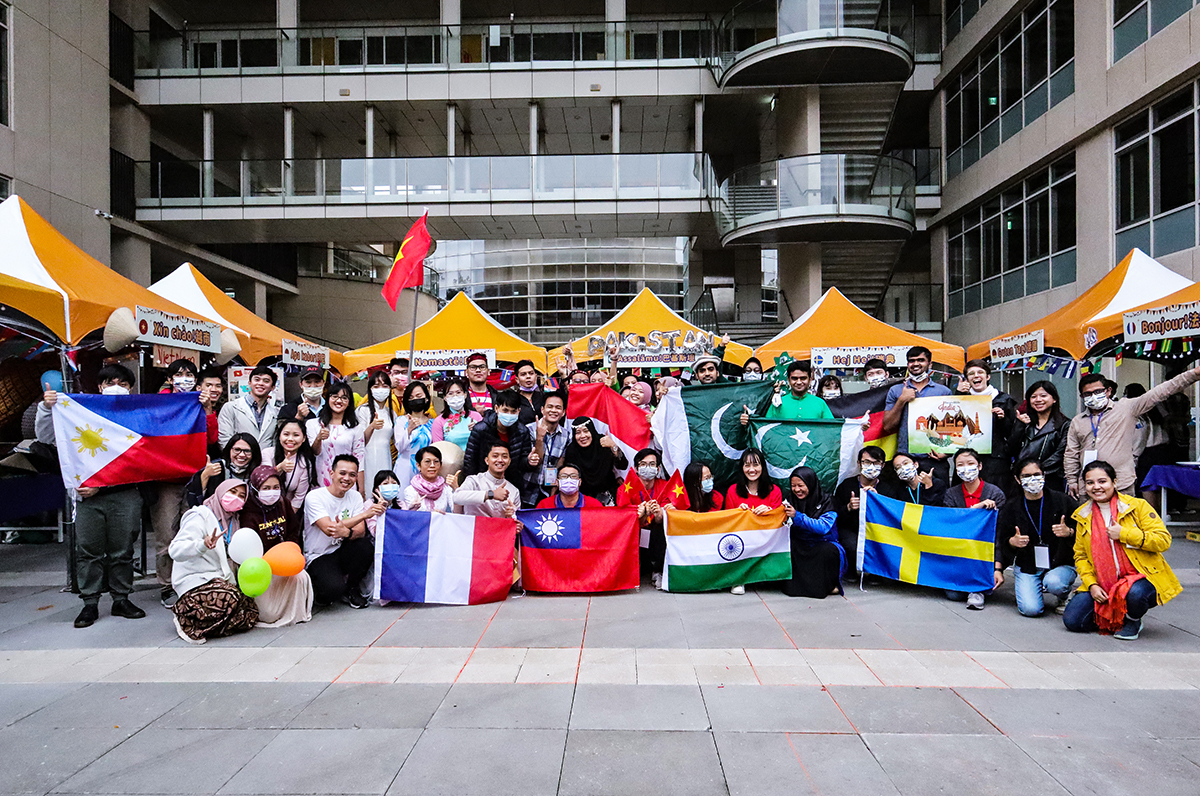 The "International Cultural Day and Study-Abroad Fair" held by the OIA displayed the culture and customs of eight countries. Photo by Yu-Tzu Kuo
The pandemic has made international movement inconvenient. The Office of International Affairs (OIA) at NCU held the "International Cultural Day and Study-Abroad Fair" at the square of the Teaching and Research Building on Nov. 26 to broaden students' international vision even when traveling abroad has been restricted. Native students who had joined the exchange program in France, Germany, Sweden, as well as international students from India, Vietnam, Indonesia, the Philippines, and Pakistan were invited to this event to set up exhibition stalls. The students at each stall introduced the distinctive culture of their countries and shared the customs of their local daily life. They moved their hometowns to NCU, allowing visitors to experience the culture and customs of eight countries without traveling abroad.
On the day of the event, students worked hard to set up their exhibition stalls imbued with their cultural features. Greetings in different languages were written on the signboard of each stall, which was a brilliant idea. The feature games and snacks were offered for taste, and the traditional costumes and instruments were also provided for visitors to try on and to play. All these activities not only made visitors feel as if they were traveling abroad, but also created an immersive sensory experience.
Besides the above interactive activities, OIA also organized a scavenger hunt that integrated the activities of collecting points and gifts for questionnaires. Students were not just giving a passing glance at the event but were having a cultural exchange with depth in the game-playing process. Even the pandemic could not keep visitors away from their willingness to cast their vision at the future and to step into the global village.
Dr. Hsieh-Lung Hsu, Vice President for International Affairs, pointed out that the opportunities for students to study abroad have been greatly reduced due to the pandemic. OIA, thus, held the International Cultural Day and Study-Abroad Fair. Through the scavenger hunt, we hoped to increase the communication between international and native students. We also expected that the splendid cultural experience of each country at the event could broaden students' worldview of globalization. Let students see the world and understand the world, and then let the world see you.
Last updated: 2022-10-31 Posted by: Headlines Visit counts: 6565