Sustainable Development for Taoyuan: NCU Hit a Homerun in Proposing USR Projects
Posted on: 2020-03-10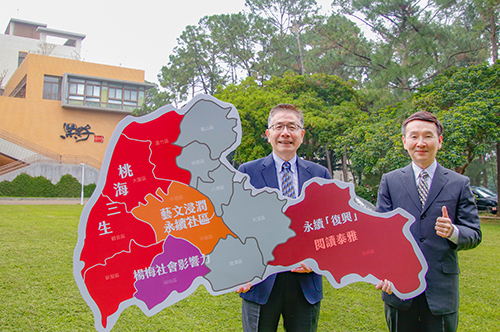 In the USR Program of the MOE, NCU hit a homerun by proposing five projects and having all of them accepted. The proposed projects will be implemented in eight districts in Taoyuan City. A photo of NCU President Dr. Jing-Yang Jou on the left and Dr. Way Sun, Director of the Office of University Social Responsibility at NCU, on the right.
National Central University (NCU) is dedicated to practicing the University Social Responsibility (USR) and is the first higher educational institution in Taiwan that launched USR projects related to sustainable development. In the first USR Program of the Ministry of Education (MOE), NCU gave a brilliant performance, carrying out up to 88 USR projects in collaboration with the Taoyuan City Government. In the second USR Program of the MOE, NCU developed five USR projects, and all proposed projects passed the evaluation conducted by the MOE. NCU ranked first among other universities in the number of passed USR projects.

In the project named "Cultivating a Sustainable Coastal Environment and Developing a Prosperous Local Community Through the Integration of 'Ecology,' 'Living,' and 'Economy' for Taoyuan," members build a database for environmental monitoring with internationally-certified innovative technologies, enriching data of coastlines in the Geographic Information System (GIS). "Cultural Immersion in Sustainable Communities: the Local Cultural Roots and Co-Prosperity of Zhongli and Pingzhen Districts" focuses on the continuity of spatial memories of Hokkien and Hakka people and on strengthening the local identification. The third project, "Social Impact Reengineering of Yangmei District," aims to support the district in social innovation development and models of organizational management by introducing the social impact assessment. The USR project named "Sustainable 'Fuxing': Building an Intelligent Resilient Tribe" aims to strengthen the disaster prevention monitoring in rural areas and to equip residents with the capability of responding to the impact of disasters. "The Learning Tribe: From Reading in Atayal to Cultivating Motivations," on the other hand, approaches the cultural aspect to enhance the learning motivations and potential of students in Atayal Tribes by adopting alternative learning models rather than traditional ones.

The area where NCU practices her university social responsibility stretches from Shuanglianpi by the Zhongli Campus to Yangmei District and Fuxing District, and from Atayal Tribes in the mountain to the 46km coastline of Taoyuan City. NCU dedicates to the local development, builds a dense network of actions, connects the university to public sectors, social enterprises, and local communities, and intensifies the local identity and social impact.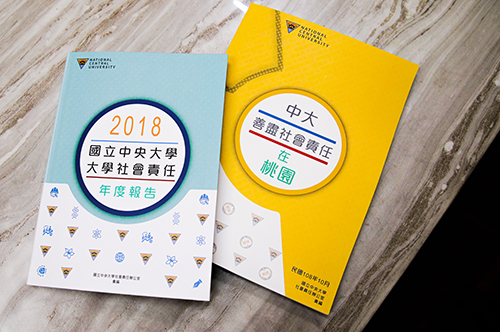 Last updated: 2021-06-16 Posted by: Headlines Visit counts: 1672