Alternative Service-Learning: NCU Students Volunteered for Epidemic Prevention
Posted on: 2020-04-01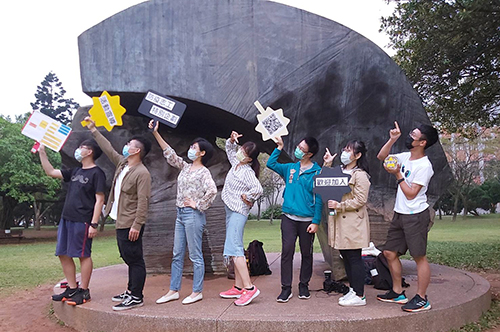 The Center for Service-Learning of NCU launched the "Special Project for Epidemic Prevention" of service-learning courses, recruiting volunteers for different tasks of epidemic prevention.
In the period of COVID-19 prevention, National Central University (NCU) called for student volunteers for epidemic prevention to practice the service-learning spirit of "giving a hand to epidemic prevention." Under the supervision of Dr. Pay-Liam Lin, Vice President for Student Affairs of NCU, and of the Department of Youth Affairs under the Taoyuan City Government, more than 200 students have participated in this project ever since the semester began.

The "Special Project for Epidemic Prevention" of service-learning course at NCU recruited volunteers for various tasks. The "On-campus Environmental Observation Team," for instance, applies creative cultural design or information technology to the observation, tracing, and recording of the changes and further provides suggestions for improving the campus environments. On holidays, student volunteers on the "Campaign Team" provide interesting outdoor games for visitors and local residents to promote the measures to take during the period of epidemic prevention. The "Technical Support Team" is keen to assist in the digitalization of teaching. In the near future, members of the team will support the Division of Curriculum and the Center for Teaching and Learning Development to develop an "Online Learning Support System" and to function as service engineers for distance learning. The "News Marketing Team" and "Innovative Development Team" demonstrate the design thinking capability and their passion for caring for life; they stick to "sympathy and gratitude," the motto of service-learning, designing creative cultural products to spread the warmth and hope to the world under the COVID-19 pandemic storm.

Epidemic prevention is not just another responsibility of the authority, the university, or the faculty and staff; it is also the responsibility of every NCU member. Students devote themselves to epidemic prevention with knowledge and specialties. During the COVID-19 pandemic, NCU anticipates that our students being taken care of will further become those who are capable of taking care of others.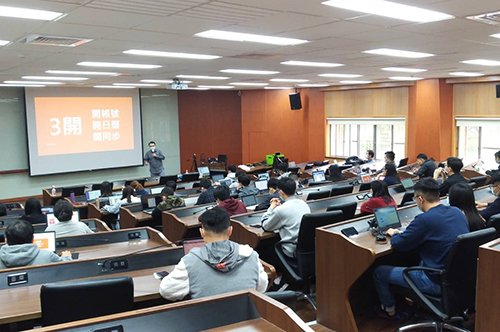 The first student volunteer team for "Technical Support" was about to finish their training program and to take the final assessment. They would soon assist in distance learning courses at each college of NCU.
Last updated: 2020-10-08 Posted by: Headlines Visit counts: 2042