New Scenic Hot Spot in Chungli City—NCU Inaugurated "Tin-Song Observation Deck"
Posted on: 2020-06-24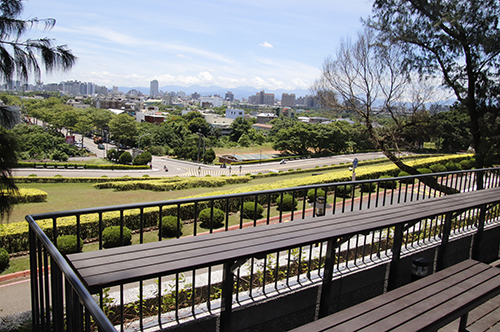 Tin-Song Observation Deck, the newly constructed observation deck near the front gate of NCU, has been open to the public since this June. Standing on this observation deck, one can overlook the entirety of Chungli City's beautiful cityscape. The observation deck is now a popular tourist attraction in Chungli City, attracting many students and tourists to stay on day and night.

NCU has planted many pine trees everywhere on its campus since it was founded. Currently, there are about 1,500 pine trees in NCU. Pine is a symbol of an evergreen state and a spirit of standing tall and straight; therefore, the observation deck was named Tin-Song Observation Deck, implicating the enjoyment of watching morning mist and evening haze while sitting or lying at ease in the moving shadows of pine trees.
From the height of Tin-Song Observation Deck, the distant mountain view and the cityscape of Chungli City are entirely within reach of one's sight. This grand and pleasant scene is NCU alumni's mutual memory. Back in school days, they would meet with some friends near the front gate, which was a good place to talk about each other's dreams and ambitions. Thus, this site is regarded as "NCU's Cape of Good Hope." The completion of the observation deck in this site has wakened those youthhood memories in many NCU alumni.
The design of a roof turning upward was applied to the appearance of Tin-Song Observation Deck. This design symbolizes young students' vigor and soaring motive power. Taking the compatibility between the building and the current environment into consideration, the designer kept as much space as possible for trees to grow. The steel structure and brown paint were adopted to immerse the observation deck in its surrounding environment. This design improved the entrance view of NCU and turned the previous old parking shed into a peaceful space with an artistic atmosphere for people to take a rest.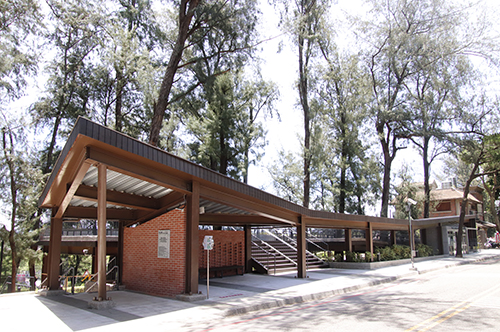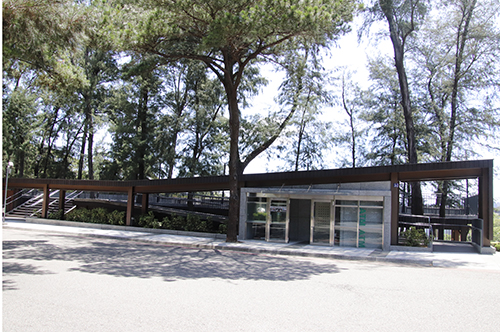 Last updated: 2021-06-16 Posted by: Headlines Visit counts: 1572