A Great Leap in University-Industry Collaboration: NCU and Royal DSM Co-founded the Joint Research and Development Center
Posted on: 2020-09-08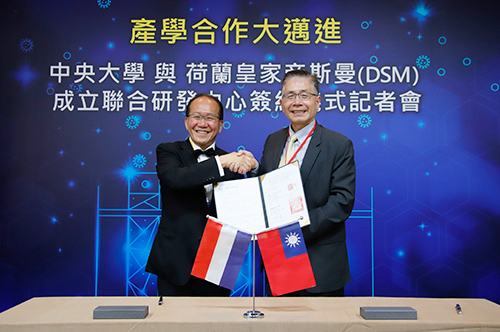 Dr. Jing-Yang Jou, President of NCU (right), and Mr. Troy Shao, CEO of Royal DSM Taiwan (left) signed a cooperation agreement to establish the "Joint Research and Development Center" on the NCU campus.
On September 8, 2020, National Central University (NCU) announced the establishment of the "Joint Research and Development Center" with Royal DSM, a Dutch green chemistry corporation. In the following five years, Royal DSM will invest about 100 million NT dollars for building the "Joint Research and Development Center" on the NCU Campus, and there will be about 40 research and development specialists staying at the Center and working on various university-industry cooperation projects with faculty members of NCU. This collaboration will hasten NCU's progress in the development of key functional materials, aiming at achieving world-class quality.
DSM Corporation: One of the Top 10 Multinational Companies That Change the World
Established in 1902, Royal DSM is a Dutch multinational corporation that specializes in life sciences and functional material development. DSM has more than 23,000 employees around the world, and its annual revenue is up to 10 billion euros. DSM sets up many manufacturing bases across the world, including Taiwan. The company takes the lead in the innovation, research, and development of biomedicine materials, biofuel, applied biochemical products, and solar energy materials. The company was ranked among the top 10 on the list of "Change the World" by the business magazine Fortune in 2017.
NCU Ranked Third in Taiwan in the Best Global Universities Rankings
According to the 2020 Best Global Universities Rankings announced by the U.S. News & World Report, NCU ranked third place among the universities in Taiwan, keeping up with National Taiwan University (NTU) and National Tsing Hua University (NTHU). Particularly, in the ranking of the indicator "international collaboration," NCU has ranked first among universities in Taiwan for six years in a row. Academic papers in eight academic fields including Chemistry, Materials, and Engineering written by students and researchers at NCU were included in the Essential Science Indicators (ESI). NCU also possesses 715 patents. In addition, the annual profit earned from industry-academia collaboration and technology transfer exceeds 2.1 billion NT Dollars.
This international collaboration with Royal DSM marks a significant milestone in NCU's progress of university-industry collaboration, and it is also a landmark in NCU's development of key functional materials. NCU and Royal DSM will work closely in chemistry and chemical engineering fields, developing new types of specialized key functional materials such as renewable chemical products, highly effective green catalysts, functional polymers, new photoinitiators, and new optoelectronic materials.
The MOST's "GLORIA" Project Contributes to the Alliance: NCU Plays a Role on the World Stage
The Global Research and Industry Alliance Project (GLORIA Project) conducted by the Ministry of Science and Technology (MOST) connected NCU and Royal DSM; the alliance was thus established. The cooperation between NCU and Royal DSM will bring Taiwan to the international stage and demonstrate the power of Taiwan's startups from a brand-new perspective. It is estimated that the annual derivative output could reach up to 700 million NT Dollars. In addition, NCU and Royal DSM will file patents, co-publish research articles, jointly hold international conferences, and cultivate talents together in Doctoral and Master's programs.
Royal DSM will send 35 research and development specialists in lithography to work at the joint research center. In five years, research and development teams in other fields including fiber optics, powder coating, and water-based coating will participate in this collaborative project. Nine professors at NCU who specialize in chemistry, chemical engineering, and biomedicine will also participate in the project. NCU and Royal DSM will work on more than 13 projects of industry-academia collaboration; the abundant research outcome will be within the grasp.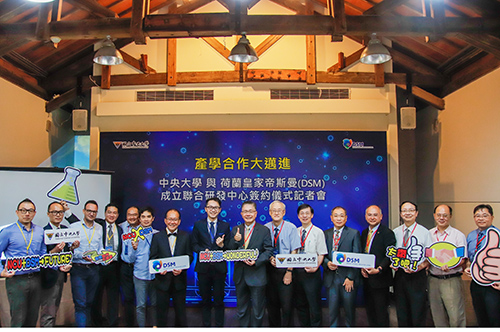 With such an exemplary international collaboration between NCU and Royal DSM, the Ministry of Science and Technology expects to boost the development of relevant industries in the country and invigorate scientific research in Taiwan.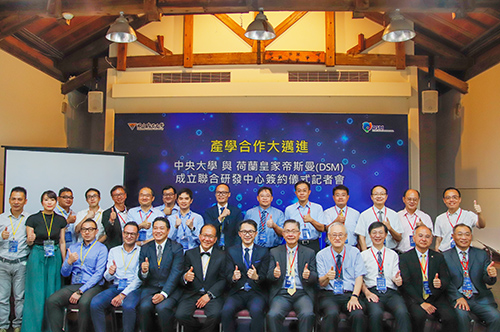 Last updated: 2021-06-16 Posted by: Headlines Visit counts: 1706